Searching for the right house
There are tons of places to begin searching for houses. I'm sure you are familiar with Zillow, Realtor.com and a plethora of others. These are great resources, but sometimes they take a little while to update, like when a house goes under contract. You can check out houses from my website too. It is directly connected to the MLS so it is updated when the MLS is. My favorite way to search is by zip code, but feel free to use whatever method you like. Please note that there is an estimated monthly payment amount underneath the listing price for your convince!
Here are a few things to expect during your transaction.
There are a lot of moving parts in the home buying process, so having a good Realtor to guide you will make a huge impact on your experience. I like to sit down with my new clients, especially first-time home buyers, to go through an overview of the process. In my experience, it makes the whole process go smoother if we all have an expectation of what's to come. I will listen for what you are looking for and work together with you to find the perfect place. We will figure out the best way to communicate and make it happen. I will provide advise throughout the process and have trusted professionals that I can recommend for needs that come up, like a loan officer, a title company, various inspectors and almost anything else.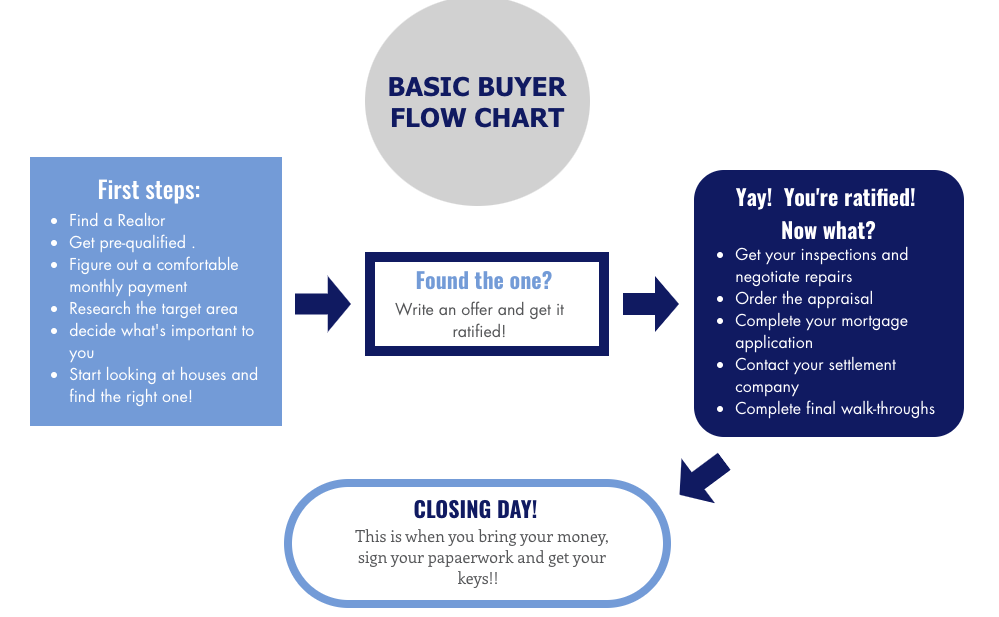 Property
Search
GO-IT-ALONE
Flipping through pictures of possible homes might not be so bad, but researching local trends, market values and other vital info can be daunting.
BUYING WITH US
A curated shopping experience with recommendations specifically tailored to meet or excess your expectations.
Time
Commitment
GO-IT-ALONE
Spend hundreds of hours online searching for potential properties.
BUYING WITH US
Curated house-hunting process & only invest your attention in properties that actually meet your requirements.
Industry
Experience
GO-IT-ALONE
Rely only on your own knowledge of the market & invest significant time in gathering information from all over.
BUYING WITH US
Work with an agent who has knowledge and remarkable experience in the local market, with countless awards, thousands of transactions, & decades of experience.
Local
Experience
GO-IT-ALONE
Unless you have some sort of insider knowledge, or crystal ball, you're not gonna know as much as you should about certain neighborhoods. To learn these things, you're gonna have to do some internetting, hop on Yelp or ask around a bit.
BUYING WITH US
With years of experience under my belt, I'm a true local expert. I can tell you all about the school districts, zoning codes, and where to find everything from the hottest coffee to the coldest ice cream.
Negotiation
Experience
GO-IT-ALONE
Even if you're a skilled poker player and have a black-belt in negotiation, it's still important to do your research. You'll be working directly with the Selling Agent & trust that you're not being taken advantage of throughout negotiations & closing.
BUYING WITH US
Thanks to our vast knowledge of market conditions and comp sales, I'll be able to help you drum up a competitive offer at the best possible price. I'll fight to protect your interests.
Your Story begins with Home. A Guide for Home Buyers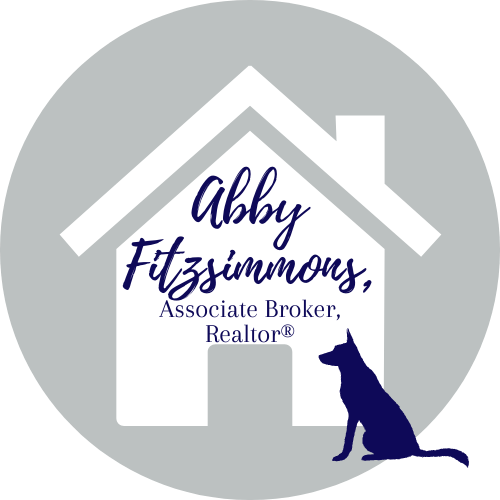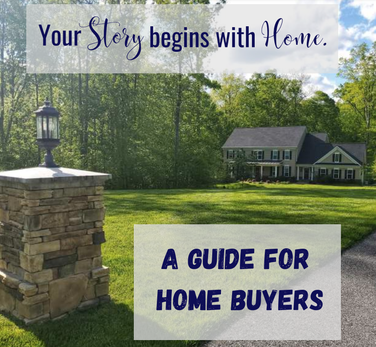 Comprehensive Real Estate
Buyer's Guide
A few of our amazing clients.

"Abby was outstanding to work with during our home buying process. Her attention to detail and will
…
Read More
ingness to go above and beyond expectations allowed us to find our perfect house was truly appreciated. Thanks to Abby, we were able to bring things to closure and prepare to move without worrying about details here in Virginia, allowing us to focus on getting our house in New York packed up. Thank you for everything Abby, you're the best!"
Read Less

"Absolutely fantastic! Quick responses, very professional and extremely helpful."

"Abby was ABSOLUTELY God sent! I contacted her and was able to ask questions and obtain information f
…
Read More
rom her a full 2-3 years before we ever even listed our property with her. She was always responsive, knowledgeable, and patient. When we finally decided to list our property she was there to advise us on everything from staging to a new purchase via a new build. She got us all the way to closing without a hiccup and we could not be more grateful. She is one of the sweetest people I know and she knows her stuff! We officially have a realtor for life! If you were on the fence…look no more, Abby is DEFINITELY your woman!"
Read Less

"It was a pleasure working with Abby Fitzsimmons from Coldwell Banker Elite. We contacted Abby about
…
Read More
18 months prior to listing our home and she never missed an opportunity to check in on us. My husband and I had lived in our home for 29 years, and this would be a first for us! Abby was very informative and answered any questions we had. She really took time to understand special memories for us and knew that it was very emotional decision for us. She gave us great advice on preparing our home, timing of putting on the market and also professional pictures! She was honest and upfront about the sale price we should ask and she was very knowledgeable! She really helped us through the entire process from listing to close. Once on the market it took 2 showings and we received offers from both! We know the new owners will love their new home and the property that came along with it! Abby will be our go to real estate agent for any future home sales or purchases. Thank you for everything Abby!"
Read Less

"Abby was a pleasure to work with. She was very professional, communicative and worked hard to market
…
Read More
our house on all available platforms, including social media. She was responsive to our questions and helped to guide us to a successful sale of our home. We are very grateful to have had Abby on our side during our home sale process."
Read Less

"Abby was fantastic to work with. We were at first just browsing homes until we found the one for us.
…
Read More
She helped every step of the way and didn't pressure us. Any questions we had she got the answer, right away. Any referrals for inspections were fantastic and awesome people to work with. We couldn't ask for a better person to work with worth. Definitely recommend her and will be using her again for both myself in the future and for my relatives!"
Read Less

"Abby was very thorough and professional. She made us feel like family and did more for us than we ev
…
Read More
er expected from a Realtor. We really appreciated how she was on top of things and how she kept us informed every step of the way, especially in this crazy market! Chris and Briana Trevino"
Read Less
My Featured listings
When you use our free search tool you get a more personalized experience that you simply can't find on Zillow or Realtor.